We Are Your Premiere HVAC Company in Austin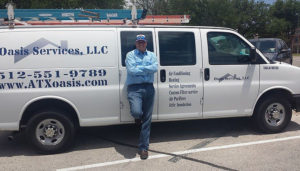 Dedicated to providing customers throughout Austin, Texas, and the surrounding area with honest and reliable heating, air conditioning and air quality services. At Oasis Services, our professionals have as many as 20 years of experience in the HVAC industry and have the knowledge and skills to handle all of your sale, service, repair and replacement needs.
Nothing is worse than when your air conditioning fails at the height of the summer season or when your furnace won't turn on in the middle of winter. Oasis Services understands how essential these units are to maintaining the comfort of your home. That's why we provide free estimates for service and offer repairs on all makes and models.
Oasis Services also offer consultations and installation of indoor air quality (IAQ) systems. Our experts can help you select the system that is right for your home and your budget. IAQ systems can remove harmful bacteria and viruses from the air as well as pollutants and allergens like dust, pollen and mold, so you can breathe easy. Click here to learn more about our services.
Oasis Services is accredited by the Better Business Bureau (BBB) and Air Conditioning Contractors of America (ACCA). We are fully licensed and insured and an official dealer of high quality, highly efficient Lennox heating and cooling equipment. For more information on our services or to request a service call, please contact us today for a free estimate. We look forward to serving you!